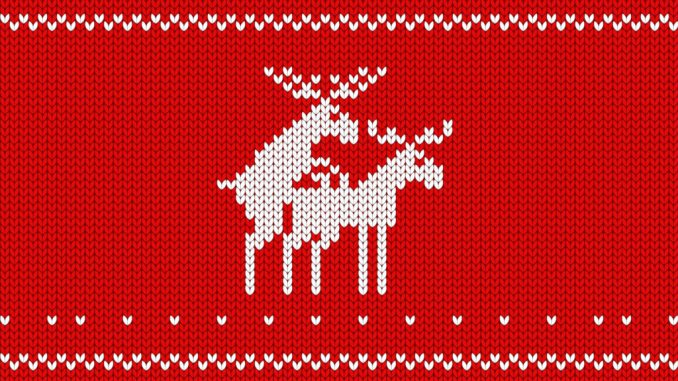 Tis the Season for Casual Sex. Here's Where You Can Find Your Holiday Hookup
The holidays are a time for family, friends and food—and sex. Yes, according to the slew of recent studies overtaking my inbox, tis the season for no-strings fornication. Last year, almost half of singles had casual sex with someone when they were home for the holidays and this year, researchers report that figure could jump to 60 percent. Within that percentage, two in five singles surveyed said they will have sex with a stranger; a third said they'll probably cave and meet up with an ex.
In other words, the holidays make single people very horny. According to one survey by Trojan Condoms, half are even willing to get it on in their childhood bedroom. This is all because of one simple reason: the holidays make no-string affairs easy. During the holidays, sex is easier to pursue in secret and provides an excuse to text an old fling you haven't seen in oh, 360 days.
And there's another reason crowds of singles hook up without abandon during the holidays: December is peak season for breaking up. Based on dating site in the UK REALBRITISHSEX internal data, most couples split two weeks before Christmas.
Why? Christmas involves a lot of family functions, for one. "There's no good time to break up, but the pressures of the holidays can be enormous on a couple whose relationship has been fading," Julie Spira, dating expert. She says another reason people split around the holidays is because they don't want to spend extra money on gifts. "As a result, in December, many singles have been known to cut the cord."
During the holidays, having sex with an ex is almost predetermined. A survey of 2,000 singles from REALBRITISHSEX.COM  found a third of singles will hook up with an ex out of both desperation and convenience. "If you've had a sexual relationship before and both of you aren't in committed relationships, it's an easy bond to reconnect with someone from your past," Spira says. Your other option is to take advantage of dating apps, but Spira recommends you be honest and reveal your intentions in your profile. "Be bold and state, 'Looking for FWB for a fun time.' This way if both of you are game, the rules are laid out in advance."
By the way, office holidays parties are another opportunity for no-strings-attached hookups (not that we're advising them). Half of respondents from POF's survey admitted they've kissed a coworker at an office holiday party and luxury sex-toy company LELO says four in 10 have "hooked up" at their holiday office party. And the vast majority say they'd do it again. Not surprising, alcohol is one of the main drivers behind holiday hookups, though Trojan reports people do tend to be safer while having holiday sex, too. Even so, more children are conceived in December than in any other month, so lovers, use your holiday gift-wrapping skills and wrap it up.
https://www.realbritishsex.com