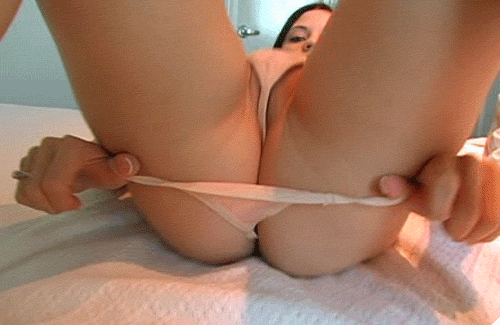 1. Get her warmed up first!
Don't just dive right in. This isn't the community swimming pool. Take your time: kiss her stomach, bite her inner thighs, stroke her labia. Show that you're comfortable down there; nothing is hotter than laying your head on her inner thigh, looking at her pussy and touching it lightly with your hands before you begin. Show her that if her pussy was a house, you would move in. I can't tell you how exciting it is to have a guy go down on a chick and all of his body language tells her, "I could do this all day."
2. For the love of Christ, Pull. Back. The Clitoral. Hood.
Licking a pussy without pulling back her clitoral hood is like trying to blow a flaccid peen. If you don't know what a clitoral hood is, Google it. Also, get the fuck away from me.
3. Focus your energy on the upper right-hand quadrant.
If you divide a clit into four equal parts, the upper right-hand quadrant—your right; if you're looking at a clit straight-on, her left—is the most sensitive. You're weclome.
4. The bottom of a clit feels great.
I don't know why it does, but it does.
5. Start a rhythm and don't break it.
The actual act of eating pussy is quite small. A friend once described it to me as "like licking a plate." It doesn't need to be an exaggerated motion—the clit is about the size of your knuckle, after all. Your girl will help you find a rhythm, but one of the cardinal sins men make with foreplay is going way too fast. Almost every woman I know has been fingered by a guy who makes it feel like he's playing flamenco guitar after a three-day coke binge. So I would err on the side of licking slower than you think you should.
Once you got it down, keep doing exactly what you're doing, down to the millimeter, until she comes. You know how frustrating it is when someone's blowing you and then she (or he) suddenly switches to using their hand? You know that kind of disappointment and frustration? That's what it feels for chicks like when you change it up randomly.
6. Humming feels good, too.
I'm not saying you have to hum the theme song to Friends—though that theme song is kinda long, so that would feel pretty nice, I'd imagine—but even if you moan a little, the sensation is very pleasureful. Plus, hearing a partner moan is a turn-on.
7. If you don't know about "The Hook"…
How to insert your fingers into her during oral: use your pointer and middle fingers together and created a hook shape. Insert just far enough until you feel her g-spot, about an inch or two past the vaginal opening. It's squishy and has a few ridges; you'll feel it. Your palm should be facing up. Now move your fingers like you're saying "c'mere" to someone. (Side note: Never insert fingers into her before she's wet. What are you, an animal?)
8. Spit on your partner's vagina only stealthily.
I applaud you for taking action when you feel like your partner could benefit from some additional lubrication, but be quiet about it, dude. I know you want to make a big show of it because you saw it in a porno one time, but nobody likes a loud spitter. No woman will feel more unsexy than after hearing the sound of you essentially hocking a loogie into her ladyflower.
9. Good head takes a while. Be patient.
Vaginas are complicated anatomical parts, you guys. Orgasming from oral may take a lot longer for your chick than you. Recognize and respect that.
10. It's okay if you don't enjoy oral—but don't tell her that.
Hey, we don't all have to enjoy every single thing in the bedroom. But, as women, we sometimes have this weird thing going on that we're afraid to ask for what we want. If we know you don't enjoy eating pussy, we're going to feel bad asking you to do it. And the last thing you should want is for your girl to feel bad during sex, right? If this doesn't seem problematic to you, I will personally put a curse on your penis so that you never get head again.
BONUS TIP
I learned this years ago: keep your tongue as active as it would it be if you were licking the frosting off a cupcake. Your tongue isn't completely soft, but you shouldn't be in dagger tongue territory either. Keep this visual in mind while doing the deed if you have to. This rule also applies to making out, by the way.