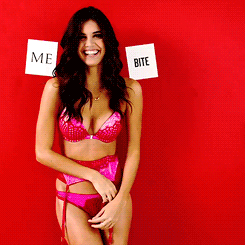 KINK 101
Give her that Fifty Shades of Grey fantasy she's always dreamed of. Tie her up, or better yet, let her tie you up. Get an assortment of leather whips, ticklers and paddles. Maybe throw in some nipple clamps and a gag ball. Explore the limits of your pain thresholds. Work on your edging technique: get her close to an orgasm and then back off. You'll both be begging for more.
SENSORY DEPRIVATION & STIMULATION
This can be used in tandem with toys and includes things like blindfolds, noise-cancelling headphones, feathers, ice cubes and hot wax, just to name a few. But first, learn from my mistakes.
One Valentine's Day about a decade ago, I was engaging in kinky activities with my boyfriend. I was tied up and blindfolded and we were experimenting with wax and some weird, icy-hot Chinese oil he got in San Francisco that he was applying to my clit. Well, the wax was just a normal candle, causing me to scream in pain as he poured it on my chest, giving me second-degree burns. I asked him to take off my blindfold and untie me, but he had the icy/hot stuff on his fingers and when he took of the blindfold, it got in my eyes. In my frantic attempt to escape my bondage to wipe my burning eyes, I knocked over the candle which started the nightstand tablecloth on fire. It was a hilarious disaster scenario you couldn't write for a romantic comedy if you tried. Long story short: Make sure you specifically purchase a sex wax candle. Don't buy weird Chinese oils from bodegas in San Francisco. And have a fire extinguisher nearby.
EXPLORE SOME NEW TOYS
I recently went deep into the wild world of vibrators in a piece I did about getting your lady a vibrator for Christmas. You can easily apply it to Valentine's Day. Two stood out to me as particularly appealing for fun, kinky couple stuff: the We Vibe Sync, which you can control remotely or from an app so your lady can be ordering dessert and you can be giving it to her. The other fun vibrator is the Hello Touch X that has four finger pads, for both internal and external stimulation and electro-play. If you haven't played with electro-stimulation, it's insane.
ROLE-PLAY
Role-playing is a great way to spice up things with your partner, especially if you've been together long-term. You each decide on a role, say one of you is a professor and the other a grad student, and you don't break that role, even when you're in public. It's an exciting way to inhabit another person and experience your partner as someone completely new as well.
FLIRT
One of the first things to go when you're with in a relationship is flirting with each other; it's a muscle you have to use and often familiarity causes that muscle to atrophy. On Valentine's Day, bring the sexy back. Webcam with each other and pretend you're in a long-distance relationship; sext each other throughout the day, send each other nudie shots, suggestive videos and descriptive messages about what you intend to do to her later that night. Build the tension. Remember what it felt like when you first fell in love.
GO ON A FIRST DATE
You can either combine this with role-playing or just go on a first date all over again, no matter how long you've been together. Pretend you've never met, ask all the standard questions, get a buzz on and have a good old-fashioned one-night stand. Maybe throw a little 69 in, to really make it feel like a throwback to the beginning of your romance.
MAKE A SEX TAPE
Nothing breeds intimacy and trust like making a sex tape. It's seriously one of the hottest fucking things ever. Part of the hotness is the risk you're taking, but this is important: You have to trust this person with your life. Seriously. Even if you're married and have complete faith in one another, I still suggest making it on VHS, which won't eliminate chances of it ending up in the Pornhub amateur category—but it will at least make it less likely.
TRY BUTT STUFF
This is often the final sexual frontier for both sexes. Or it's that thing you do on special occasions. Now's your chance! I've written extensively about female butt stuff, male butt stuff and pegging. The biggest takeaway? Don't knock it until you try it.
SHARE YOUR WILDEST FANTASIES
Be radically honest. Maybe you've always wanted to have a threesome, maybe she's interested in double penetration with you and a toy (or another man). Sex in public, swinging or dungeon parties often fall in this category but remember, it's not necessarily about fulfilling that fantasy. It's about opening the door to discussion in a safe, non-judgmental space. It's the honesty that's the turn-on. Who knows? Maybe both of you have been harboring a fantasy that you both share.
EXPLORE TANTRIC SEX
Tantra deserves it's own column and it will get one, but to understand how fucking sexy tantra is, one of the basic tenets of the practice is that intercourse isn't the focus. This might seem counterintuitive, but tantra is all about rituals that are designed to increase sexual energy and the highest levels of stimulation possible. This means the focus is the build up and developing deep, almost uncomfortable planes of intimacy. Lots of eye contact, rhythmic breathing, playful touch, massage and finally, slow, meaningful lovemaking. If you want more information there is plenty available online.
If you're like me, however, all this intimacy sounds creepy as fuck and you're probably single. Happy Valentine's Day. I'll be spicing things up by trying out my new vibrator. Hit me up.