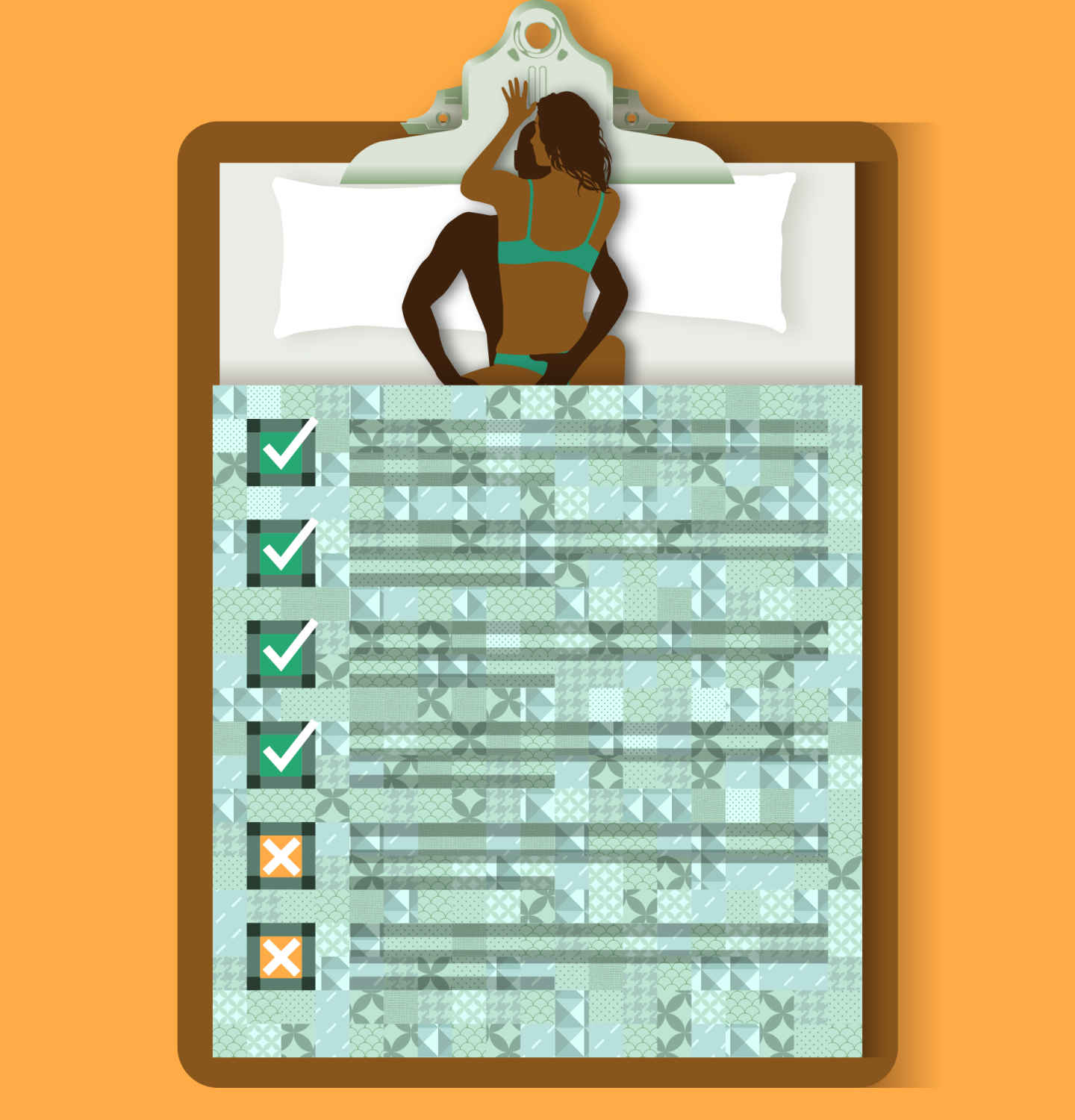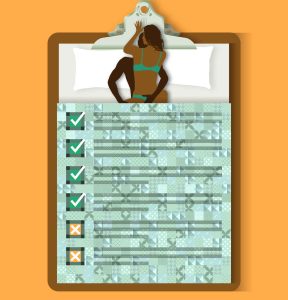 Before you settle down with "the one" you want to have a wealth of sexual experience so you know what works for you and what doesn't—and, most importantly, how to make her happy. This is why it's best to find out what your sexual deal breakers (and makers) are first, in order to avoid making a really serious decision you regret later because you didn't do your due diligence in the bedroom. A lot of these are cliché fantasies. That doesn't mean they're not amazing. Consider this a Bucket List for Your D.
Exploratory Sex
Go in the opposite direction of your divining rod a few times. Please women who have different body types, of various races, with different hair color, whatever. You might be surprised by what your dick kinda likes.
Older Woman
Specifically, one generation older. It will not only open you up to a wealth of experience, but it will also fulfill the teenage fantasy of having sex with your friend's mother who was super hot and occasionally gave you the eye but you knew there was no chance. Now's your chance. I wrote a piece to help you on this one.
Foreign Sex
Take a girl on a legit date who doesn't speak your native tongue–like DINNER and WALKING AROUND and GETTING ICE CREAM and having to communicate. Then, yes, sleep with her. If you can pull that off, you're either handsome and charming as shit, or your listening skills are top-notch, or both. Love is a universal language, but having this type of sexual experience will teach you to listen with your eyes and hands and nose in addition to your ears. Do it enough and you'll be able to read your eternal lover's body language with astounding accuracy. You'll be a better lover and a better life partner. And you may learn how to say "Fuck me harder" in some exotic language.
You're The Weaker Sex Sex
Have it with someone stronger than you, like a cross-fit enthusiast or an MMA fighter. Because squats. Because body-ups. Because it's hot to know you aren't in charge. Because all men should be physically dominated by a woman at least once, just to respect the vulnerability, primal subjugation and psychological enjoyment of submitting we women get to experience.
---
RITES OF PASSAGE
Revenge Sex
Be her rebound. There is nobody quite as motivated as a woman who has been cheated on or dumped who is out there trying to fuck her way even.
Facebook Boomerang Sex
Thanks to technology you can now track down that certain crush from your high school who was out of your league or in a relationship and complete your sexual destiny.
One-Night Stand Sex
Gotta do it. It gives you the opportunity to have sexual gratification with zero responsibility, except for protection, of course. Once you commit to a monogamous relationship, your mind and heart have to include another person. That being said: MAKE SURE SHE AT LEAST HAS AN ORGASM.
Anonymous 30-Minute Stand Sex
This is different than the one-night stand. This is meeting a stranger on a plane/train/Starbucks, having that animalistic sexual chemistry and then insta-sex wherever you can (bathrooms, broom closets, etc. …) and going your separate ways. The less you know about one another when you part—the better. This is one you'll only be able to do while single SO GET IT WHILE YOU CAN.
---
EXHIBITIONISM
Public Place Sex
Beaches, parks, music festivals, campgrounds, etc. Having sex with a high risk of being spotted is always hot. Bonus points if you're in a foreign country and there is a risk of getting thrown in prison or having to pay a foreign cop a bribe (not that I know from experience).
Video Sex
First of all, don't be a moron. Don't get carried away and make a video on her iPhone. In this digital world, expect anything you do electronically to go viral always. I recommend a good old-fashioned VHS or HI-8. But if you ever have a woman who is down, film yourself giving and receiving porn star sex orgasms on tape for you own personal collection. MUTUAL TRUST IS ABSOLUTELY IMPERATIVE WITH THIS ONE. If there is any doubt, don't do it and wait until you're with the right person.
Movie Theater Shenanigans
Hands down one of the hottest sexual experiences I've had was a two-hour passionate make-out session during We Were Soldiers. There is nothing more naughty than getting an HJ and having to stifle your pleasure. The more serious the movie, the more inappropriate the act, the better the orgasm.
Open-Curtain Sex
At least once, find a woman who gets aroused by lights-on, curtains-open, loud, rambunctious sex and put on a show for the neighbors.
---
EXPERIENTIAL
Moving Transportation Sex
Planes, trains and boats. There is something insanely sexy about literally moving through space and time while you fuck.
Sex Party Sex
This isn't for everyone, but if you're even so much as curious about a randomized group encounter like key parties or Eyes Wide Shut, find a structured environment with a complete degree of sexual haphazardness and get that shit out of your system. It will be an itch you can't scratch until you do.
Wedding Sex
We've all seen Wedding Crashers. You know the deal. Wedding brings out the casual sex in people. It's fun. It's loose. And two of my best friends ended up marrying the men they hooked up with at a wedding…so you never know, weddings also bring out the love, too.
---
CAR SEX
Car Hood Sex
Seriously, if you haven't done this—do it now. This is one of those things you can do with a partner. It's never too late for car hood sex, and it's as hot as you imagine. Just make sure, you know, the engine has cooled a minute. The car engine, I mean.
Road Head
If I was a man, I doubt I would be able to think of anything better than getting blown at 70 mph. Just be careful. You have precious cargo, and she's currently giving you fellatio.
Backseat Sex
Popular at lover's perches throughout the world and fantastic on road trips. There is nothing quite like pulling over in a seedy rest stop and doing the deed. Backseat sex is usually spontaneous, always awkward and unfailingly invigorating.
During Work Car Garage Sex
Or "the nooner." Basically whenever you're fucking on company time it's phenomenal. This one never loses its luster, and if you're in a relationship it's a great way to spice things up when things are starting to feel stale.
---
SECRET SEX
NOTE: I'm not advocating cheating or the destruction of a relationship although I would be a blatant hypocrite if I said I'd never been the other woman. Part of the allure of the cheating dynamic is the fact that it's prohibited. It's too high a price, though. Not recommended.
Office Sex
Office sex is frowned upon, which is exactly why it's so fun. WARNING: with all office sex, you're playing with fire, and if the relationship goes sideways it can cause far more trouble than it's worth. Don't say I didn't warn you.
Buddy's Sister Sex
Especially if it's a childhood friend. You're detonating a sexual time-bomb that's been waiting to explode for decades. Beware: this could cost you a friendship, so proceed with caution.
Mid-Party Sex
This one is fun because you're playing with two social dynamics. The game is not to disrupt the primary dynamic (the party) while getting away with adding a parallel sexual dynamic. The smaller the party, the bigger the thrill. If you can disappear at an intimate dinner party unnoticed, consider yourself a Jedi.
---
PHYSICAL ACTS
Marathon Sex
You're going for three personal bests:
1. The number of orgasms you give
2. The number of orgasms you have
3. The hours you spend pleasuring your lady
Threesomes
NON-PAID. Generally, the best-case scenarios are when you're at a party and it happens organically or you happen to be dating a bisexual vixen who gets off on picking up a third out at the bar. (Yes, we exist.) OR you can do what I did and try out Thrinder, the dating app for threesomes. (Yes, it exists.)
S&M
Think nipple clamps, clit clamps, whips, ties, blindfolds, wax…whatever. Unless you absolutely, positively know this just isn't your thing, I recommend you try it out at least once. You owe it to yourself to know if kink is something you absolutely need in your sex life. Remove any doubt because five years into marriage, when the lust has subsided and the kids are the priority, you don't want to be fantasizing about tying up your female friends or coworkers because you married a woman who absolutely isn't down with that level of sexual experimentation. Sexual compatibility isn't everything, but it certainly helps to be on the same page if you want to go the distance.
Butt Stuff
You should definitely try out some butt stuff before you settle down, mostly just to see how you feel about it. Also, in the event your true love has absolutely no interest in it, at least you can say you tried it once. I've examined both her butt and your butt IN GREAT DETAIL if you need some tips to get you started. You're welcome.
Squirter Sex
From everything I've heard from men who have never been with a squirter before—prepare to be terrified.